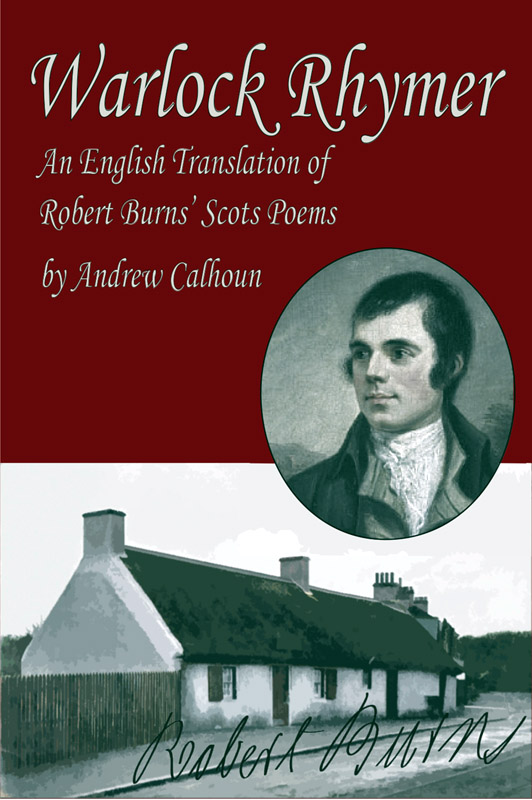 Warlock Rhymer: An English Translation of Robert Burns' Scots Poems
Andrew Calhoun
regular: $24.95 Sale: $21.95
Now on sale at discount price.
About the book
Robert Burns is called the world's foremost poet of love; yet of all of his poems written in Scots, there is but one which can be described as a romantic verse to or about a woman. All of his love lyrics were songs, composed to preexisting melodies. He composed verse in both Scots and English, but his great poetry is in Scots; not the Gaelic of the Highlands, but Lallans (lowlands), broad Scots. Andrew Calhoun has translated these poems into a Burns-era, Scottish-flavored English and collected them together for the first time as a near complete set of Burns' Scots poems. These poems, accessible to any educated reader of English, provide a window on his life and thought. Many were written as verse letters to friends. With his prose "Letter to John Moore," included in Warlock Rhymer, they comprise something of an autobiography presented chronologically so they illustrate Burns' life.
Author Bio
Andrew Calhoun (1957--) is a Chicago singer-songwriter, poet, and author. He has released thirteen albums--nine of original songs, two of traditional ballads, one of African-American spirituals and folk songs, and one of American and Irish folk songs. He has published two books of poetry, Hay and Twenty-Four Poems, and one of humor, The Trilogy Trilogy. Warlock Rhymer offers a rigorous schematic translation of the bulk of Robert Burns' Scots poetry to the reader who wishes to enjoy it without the use of a glossary. Introductory and background notes reveal intensive research into Burns' life and times.
At age seven, Andrew memorized W. B. Yeats' "Song of Wandering Aengus," thus earning a nickel from his mother. Three years later he got his first guitar and by the late seventies, he was performing in the Chicago folk scene. He has since toured internationally, performing at folk clubs and festivals, pubs, and house concerts. In 1992, Calhoun founded Waterbug Records, an artists' cooperative folk label which has grown to 125 titles.
In October 2012, Andrew received the Lantern Bearer Award for twenty-five years of service to the folk arts in the Midwest by the Folk Alliance Regional Midwest. In 2014, he was honored with a Lifetime Achievement Award from the Woodstock Folk Festival. Andrew's recent projects include Living Room, original songs, and Rhymer's Tower, a double CD of historical ballads of the Anglo-Scottish border.
Book jacket blurbs
"Andrew Calhoun's research is impressive. Not only is he a first-rate Burns scholar, he also seems to know what Burns felt in his heart, which makes this exemplary volume a rich combination of scholarship and biography. A remarkable achievement and a must for every admirer of the great Scots poet."
--June Skinner Sawyers, author of Bearing the People Away the Portable Highland Clearances Companion and the Maverick Guide to Scotland
Andrew Calhoun brings a lifetime of interpreting Scots balladry to this inspired new translation of Burns poems. Rigorously faithful to the form, imagery, and spirit of the original Scots, Calhoun is truly able to make the language "sing" in English. And not a moment too soon, because America needs Burns now--his resilience, humor, and passionate egalitarianism--to remind us that these virtues, and these poems themselves, belong to the common people.
--Anais Mitchell, singer-songwriter, Waterbug, Righteous Babe and Wilderland recording artist, author of Hadestown
For anyone who has wished to access the Scots poems of Robert Burns, Andrew Calhoun's translation into English provides a welcome window. A fine songwriter himself, Calhoun brings his keen lyrical sensibility to their rendering.
--Richard Shindell, singer-songwriter